---
A message to financial professionals from CEO Brian Fowler
---
I recently watched Richard St. John's TED Talk on his "8 Secrets of Success." The three-minute presentation was full of wise words for entrepreneurs – folks who are not easily discouraged in the face of a climb. St. John used a term we have picked up around our office now, "workafrolics." We love what we do, and if there is any regret, it's that we didn't start years earlier.We have built this firm from scratch. It has not been easy, but as the effort begins to yield meaningful results, I see how the strenuous effort to get things right has made my team confident – tough, even. We are more committed than ever, and we are ready to include more teams in our disciplined expansion.
Needless to say, we are invested in our clients. We are invested in each other. And if you are ready to truly take ownership of your business and plant a flag in the space around it, we have set the stage to invest in you, financially and otherwise.
We are looking for a few outstanding individuals or teams across the Southeastern U.S. who have the ability to understand more than just investments, but families and relationships, and how these things interact and change with the markets and life's stages.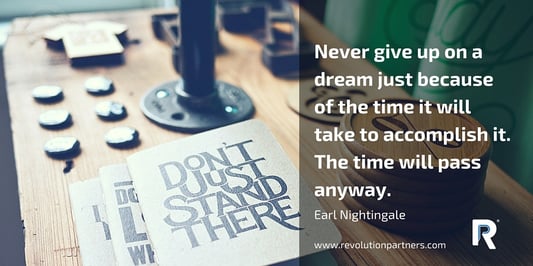 If you are a good match for Revolution Partners, your business is already 75% or more advisory-based, and you are looking for personalized systems and professional support to help you grow. You are an established advisor with a long-term vision and desire to lead. You value ownership, autonomy and authenticity, and you want an opportunity to create enterprise value. Not only are you are motivated by an uncompromising commitment to put your clients' interests first, you expect all of your colleagues to share this pledge.
Please do not sit in a place or position that fails to meet your or your clients' standards a moment longer. If you're curious to know more, please call me directly at 901-421-6301.
Read about my own leap here: Revolution Partners CEO Takes Leap to Avoid the Top Five Career Regrets
And see more about what we are doing here: Prepared to Explore Growth Opportunities: Join Revolution Partners