---
A note from our Partner and COO Bob Lloyd
---
My goal as Chief Operating Officer of Revolution Partners is to provide technology tools that are:
1) effective for our teams and
2) impactful for our clients' experience.
I have an especially important additional factor in my responsibility:
3) to maximize our return on investment.
In many cases, the people who invested in this business—our members—are our family members, our oldest friends, our colleagues (ourselves!), and in some cases even our clients, too.
We don't take their trust lightly. Thankfully, maximizing ROI is not at odds with the other goals; these factors must be balanced when making technology choices. In my view, balance is achieved by building for scale.
---
Some time back I was having lunch with a good friend of mine who happens to be a business coach. The topic of conversation moved from kids, to our bad golf game, and landed on the trials of being involved in a startup. At one point, my friend asked me how we "build for scale."
"Easy!" I replied. "You have to arrange technology in a way that is meaningful to the user of it. Provide a reason for your people to be in a system and to follow the workflow. You need perceived value from the user's point of view, and it needs to be routine, without the need to change or intervene."
"No", he replied. "Scale is about hiring the right people."
"I take that for granted. At Revolution Partners we have a core standard that we use when bringing in a potential new partner: 'trust and admire,'" was my response.
---
If we have complete confidence in our people, then we are building to support their excellence. We delegate down as far as possible, ideally to the technology systems, to free up time to build relationships and to further innovate for the future.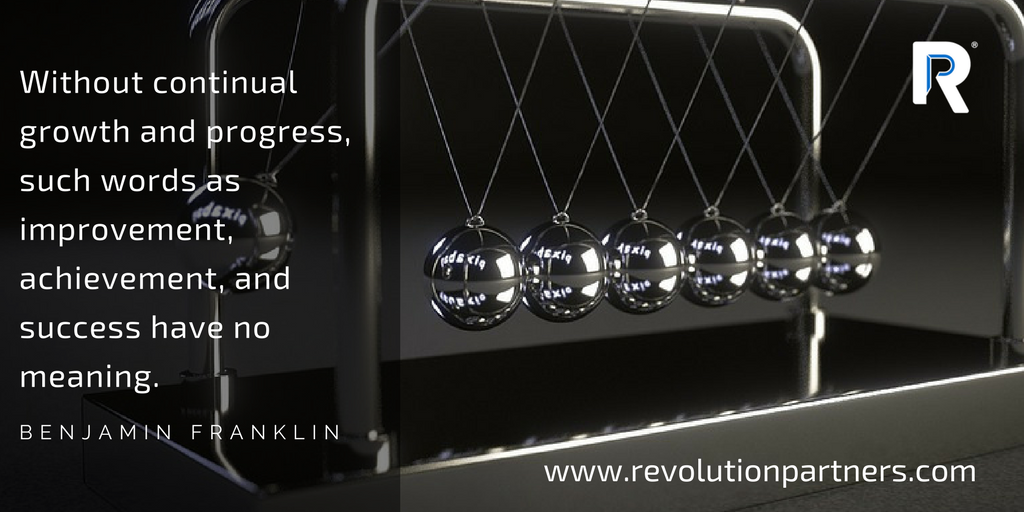 Our professional financial advisors are the most expensive resources we have, and that's the way it should be. The more of their time we are able to free up, the more time they have to make a positive impact on the lives of their clients.
In my opinion, technology has to answer a defined and pressing need; it's not enough for something to just be really cool. The best technology resources are systems that can apply to more than one problem we are trying to solve and that can grow with us. My job is to identify and integrate advanced technology when and where it creates areas of scale for our superusers to thrive and for our business to grow.
Read more about financial technology in these Realize articles:
Maneuvering "The FinTech Revolution"
Pull Yourselves Together: Conversation starters for investors and advisors
Platform: a structure to stand on; a declaration of principles