---
Part of a financial planning series.
---
Did you catch Reason 1? In the previous post, we addressed finding a required rate of return to meet your goals. We consider the target rate of return to be a building block of even the most basic financial plan.
For this series, the second reason you might benefit from financial planning is: (tax) location, location, location...
2. To consider the tax location of your savings.
Did you know that for the most common goals, there are three different account types into which you can save, and each of them has different tax treatments during accumulation and/or for distributions?
Tax-deferred (401k, 403b, Traditional IRA): Funded with pre-tax dollars, but usually 100% taxable as income at the higher, ordinary rates in the year in which the distribution is taken. Some sources estimate that baby boomers have saved around $10 trillion in accounts like these, creating a large future tax liability for seniors in retirement and their heirs.
Tax-Free (ROTH, 529): Funded with after-tax dollars, but distributions are usually 100% tax free if certain qualifications are met.
Taxable (Savings, Checking, Brokerage): Funded with after-tax dollars, but growth/interest/dividends are often taxed at a lower rate.
Having assets in well-diversified tax locations, especially when entering the distribution phase of any goal, could ensure more efficient accumulation and drawdown of your assets.
It is not about how much you take out, it is about how much you get to keep once the tax man cometh!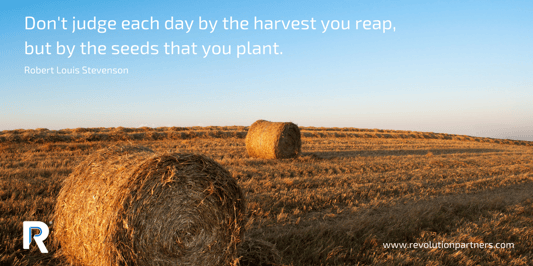 Revolution Partners strives to offer a variety of services to meet the wealth management needs of individuals and families. We believe that wealth management is more than just investment selection. See a list of our services here.
We gladly collaborate with other trusted professionals, such as CPAs and attorneys who specialize in trusts and estates. We have a strong professional network of people we trust and admire, and we also would be glad to meet the other advisors who know you and your financial life best.
Find out more about financial planning:
Stick with us! If you are not already subscribed to this blog, please subscribe now to follow along and receive instant post notifications in your email inbox.
Next post in this series:
Reason 3 of 5 You Need a Financial Plan