A note from CEO Brian Fowler on the single passion of his professional life (hint: it's not pickles)
---
My wife and children gave me a pickle crock for Father's Day. It's a cool gift, and it was very thoughtful. I'm a frustrated gardener, I love to cook, and I can't help but be intrigued with all the possibilities of pickling. I was excited.
On the evening of June 21, in jest, I posted on Facebook, "We're launching a new brand of pickles in three weeks – invitation only!" The replies started to hit immediately. I began to receive calls, texts and emails with recommended recipes, brand suggestions, tag lines, even proposed warehouse space to produce and store these amazing non-branded, no-name pickles. On July 23rd one friend posted, "you've started a movement."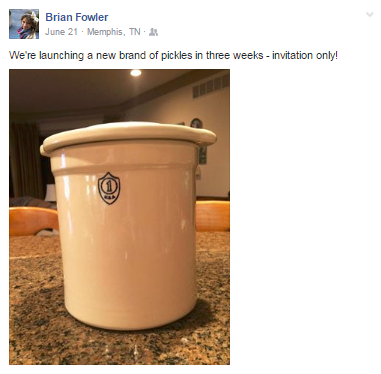 And to think, I had no pickles at that time – not one in the jar, and certainly no intention of starting a pickle business. I had no idea there was a market for exclusive pickles. For a moment, I thought perhaps I had chosen the wrong business concept. While most everyone I meet is initially hesitant to discuss financial matters, they'll openly wax poetic about pickles. People love pickles!
I remain bewildered and somewhat entertained. I have spent my entire professional life in finance, and anyone who knows me is familiar with Revolution Partners. After covering thousands of miles, hosting countless events, calls and meetings, that one casual post about pickles took off. People want to start a conversation with me about pickles.
---
I would not for one second abandon or divert my attention from the single passion of my professional life – founding this firm and championing a new movement in finance.
---
Revolution Partners is solely focused on how to help families understand the connection between their life and their money. We strive to deliver our services with full transparency and without conflicts. You may have seen or heard it from me before, but let me say it again: "Our work is to ensure that the proceeds of your work are properly allocated to build and preserve your net worth, so you can live the life you're uniquely meant to experience – your life's worth."
I do not want to discourage my fellow pickle enthusiasts in the slightest. We can still talk shop. If you're wondering, I generally prefer Kosher deli-style whole pickles. But with that out of the way, let's talk about Revolution Partners - it's what I do in real life. I am eager to hear your issues and ideas, your questions and concerns, and most importantly, the goals and dreams you have for your own life. And, please expect more than pickles.